Security concerns grow day by day with the rise of cyberattacks. Among the threats, cyber espionage is one of the prominent activities. It can be used to get a hold of sensitive or classified data that may be intellectual property, government, or trade secrets. The threat actors' goals might be financial gain, reputational harm, political interests, or cyberwarfare. Today, we'll review a high-profile cyber espionage group MuddyWater. 
Who is MuddyWater?
Stuxnet was a big hit on Iran's nuclear program in 2010. Iran took that as a wake-up call and began investing in and improving its cyberwarfare capabilities. In 2011, Iranian threat actors began to be involved in sophisticated attacks. One area they focused on is cyber espionage campaigns. The first major campaign was observed in 2012, called the Madi campaign.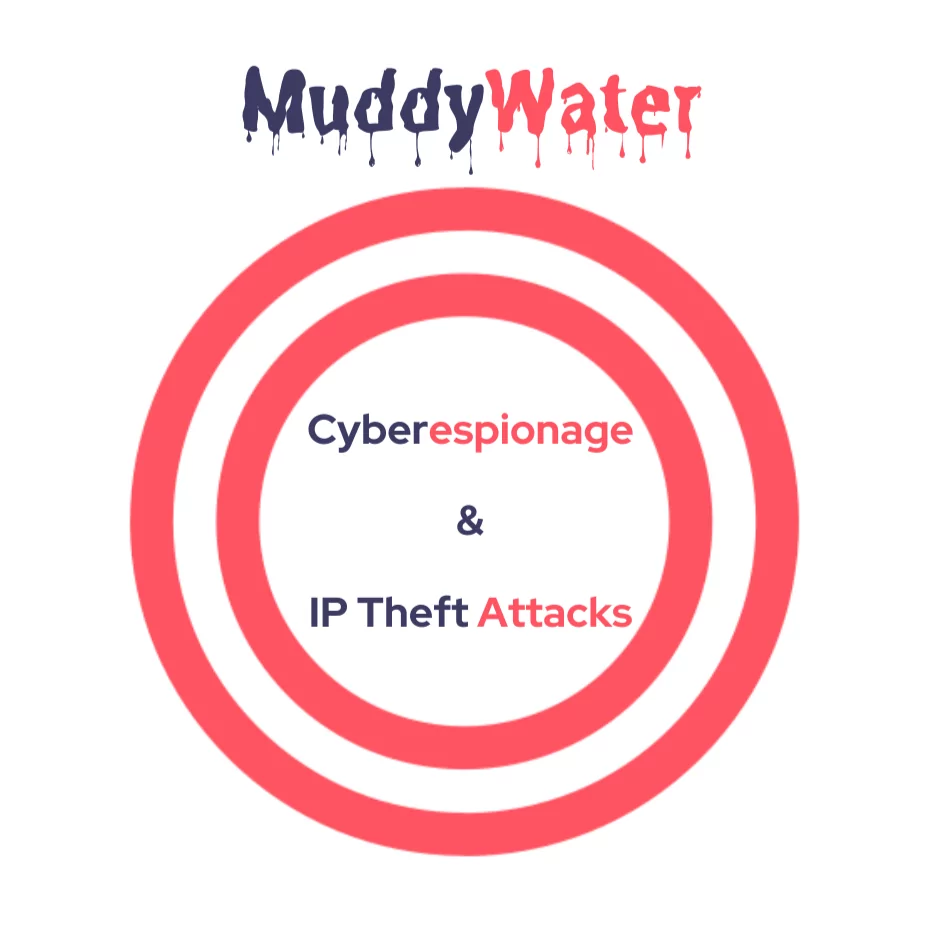 MuddyWater, also known as Static Kitten, UNC3313, or MERCURY, is an Iranian state-sponsored APT group. According to the FBI and other US and UK-based agencies, they operate as a subordinate element of the Iranian Ministry of Intelligence and Security (MOIS). It is believed that they have been active since late 2017 and have been in close contact with MOIS since 2018. 
MuddyWater was observed to be conducting malicious activities across Europe, Asia, Africa, and North America. However, their main focus primarily resides on the middle east, per other Iranian threat actors. They are targeting private and government organizations listed below: 
Defense 

Education 

Energy 

Government and administration agencies 

High-Tech 

International Organizations 

Media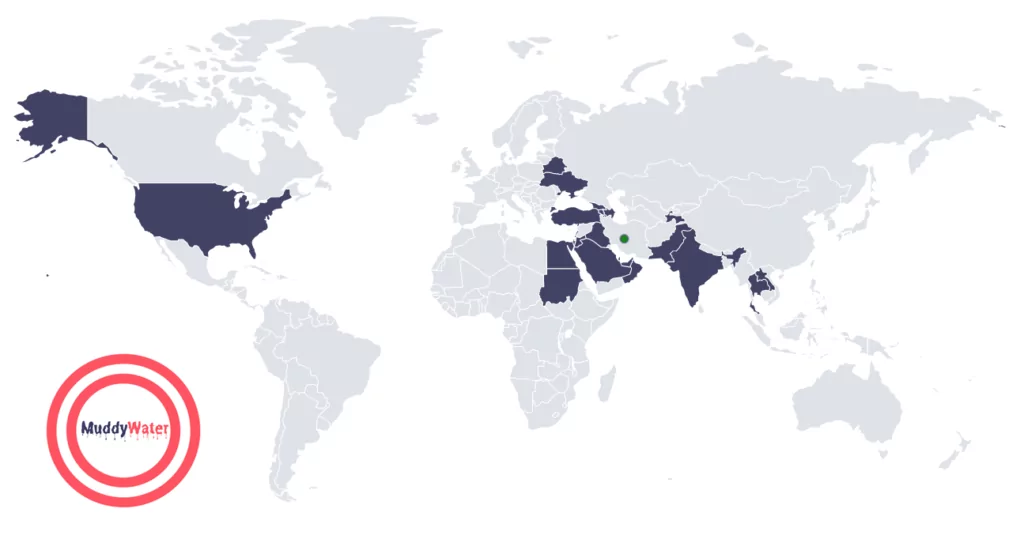 They are primarily conducting cyber espionage activities and intellectual property (IP) theft attacks, but on some occasions, they have deployed ransomware on the targets. However, it is believed they deployed ransomware to cover their tracks. 
How does MuddyWater Attack?
MuddyWater's arsenal is vast. The group exploits various known vulnerabilities and uses a wide range of tools.
For initial access, the group commonly leverages spear-phishing and tries to trick the victims into opening malicious documents hosted in commercial file-sharing services. After obtaining initial access, they usually drop web shell and gain local administrator access on the infected machine. On the compromised machine, they use tools such as Mimikatz to dump credentials. To broaden the compromise, they laterally move by leveraging in-built or deployed tools within the network.
MuddyWater generally uses DNS to communicate with their C2 servers while using tools such as PowerShell, vpnui[.]exe (a unique version of Ligolo), and remote monitoring software such as ScreenConnect, Remote Utilities, and eHorus. 
The figure below shows an instance of the MuddyWater attack chain observed by Microsoft.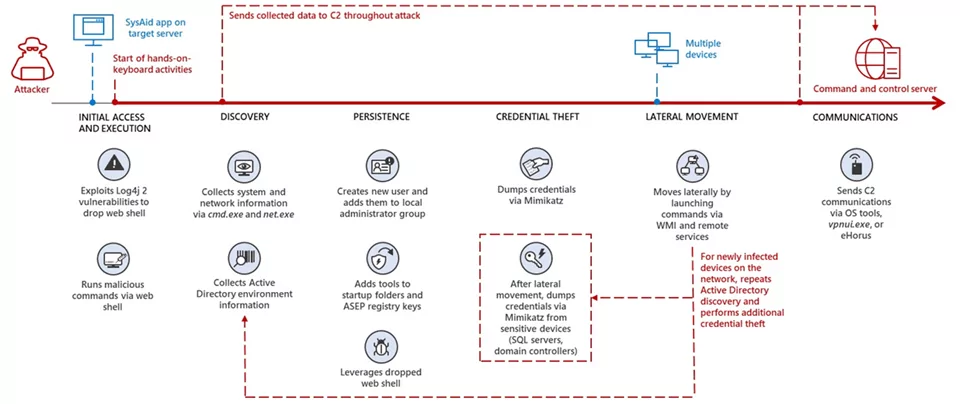 Which Tools and Vulnerabilities MuddyWater Use? 
PowGoop DLL Loader:

 PowGoop malware is a malicious DLL loader. It disguises itself as a legitimate Google Update executable. 

Small Sieve:

 Small Sieve is a simple Python backdoor used to distribute Nullsoft Scriptable Install System (NSIS) installer. 

Canopy:

 Canopy is a spyware. It collects the victim's username, computer name, and IP address and sends it to the MuddyWater group. Canopy malware is also known as Starwhale malware. 

Mori:

 Mori is a backdoor that uses Domain Name System tunneling to communicate with the group's C2 infrastructure. 

POWERSTATS:

 POWERSTATS is a backdoor that runs PowerShell scripts to maintain persistent access on the victim systems.

Who Did MuddyWater Target in Their Campaigns?
MuddyWater's targets are mostly the neighbors of Iran in the middle east region. If we analyze the graphic below, we can see that Turkey, Israel, Iraq, UAE, and Pakistan are among the top targets of MuddyWater. Observations may show that MuddyWater acts according to the political interests of the Iranian state through the connection of MOIS. So, countries in which Iran has political interests should be aware of MuddyWater's cyber espionage campaigns.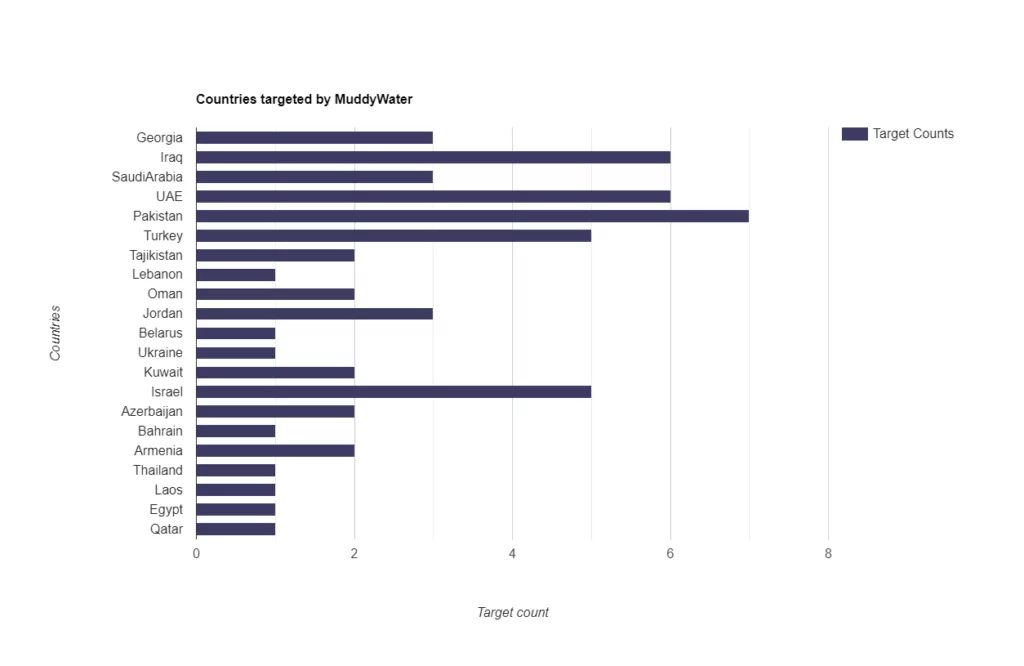 Motivations Behind MuddWater's Attacks in the Last 2 Years
In September 2020, a series of agreements called the Abraham Accords were signed between Israel, United Arab Emirates, and Bahrain. These countries signed these agreements intending to normalize diplomatic relations in the region. The US brokered the agreements, a major diplomatic breakthrough in the Middle East. 
The Abraham Accords can be an improvement in the region from a neutral point of view, but some may feel uneasy about these agreements. In particular, Iran may have felt concerned about the Abraham Accords because they could lead to closer ties between Israel and other countries in the region, potentially undermining Iran's influence. 
With these developments in mind, we may deduce that the cyber-espionage activities carried out by MuddyWater between September 2020 and March 2021 were a reaction to these agreements. MuddyWater, as far as known, primarily conducted campaigns in the middle east and its neighboring regions in late 2020 and early 2021. 
September 2020 – Operation Quicksand – Israel: 

According to 

ClearSky

, MuddyWater targeted many prominent Israeli organizations. In this specific campaign, security researchers observed that the threat actor used a variant of 

Shamoon

 to encrypt data. However, it is believed that the intent of using Shamoon was not to deploy ransomware but to disrupt operations.

March 2021 – 

Earth Vetala Campaign

: According to Trend Micro, Azerbaijan, Bahrain, Israel, Saudi Arabia, and the United Arab Emirates were the targets of the campaign. Government agencies, academia, and tourism were some of the targeted sectors. 
Latest Attacks of the Threat Actor 
In January 2022, cybersecurity researchers reported that MuddyWater targeted Turkish private organizations and governmental agencies. They used multiple malicious PDFs and MS Office documents during the campaign. With the spear phishing technique, the threat actors tried to convince the victims that the documents were from the Turkish Health and Internal Affairs Ministries.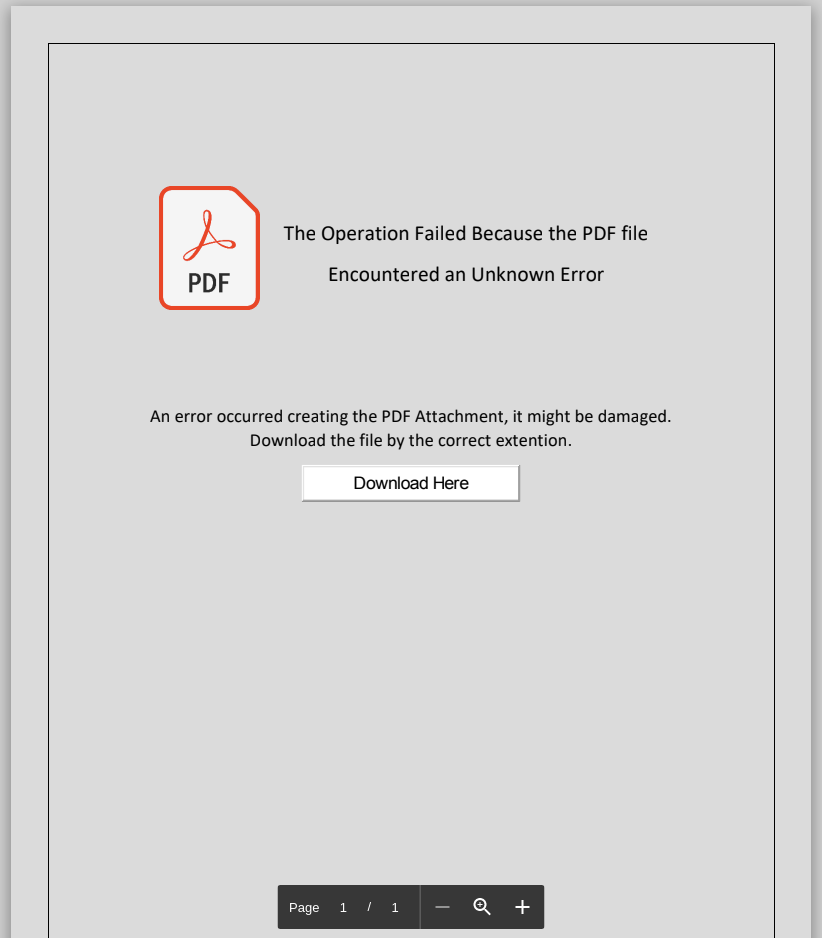 In another incident on December 2022, Deep Instinct reported that MuddyWater, conducted malicious activities, again using spear phishing through emails. Israeli insurance companies were the targets of the attacks. As an evolving threat actor, they added a new tool for remote access, Syncro, to their arsenal. 

Conclusion
Observations of MuddyWater's cyber espionage activities can lead to a conclusion that they act according to Iran's political strategies through MOIS. Whether it is because of the political implications, or another reason, Israel and Turkey seem to be significant targets for the MuddyWater. 
If you are an organization residing in the middle east, there might be a possibility of being a target of MuddyWater. What can you do to defend against them? Excluding the technical mitigations, keeping up with the political climate of the middle east region might give a heads-up if the tension rises. On the technical side, MuddyWater evolves with each attack they perform, but they still bear similar techniques. You can apply the following recommendations per your needs. 
Security Recommendations Against MuddyWater 
MuddyWater leverages spear phishing. Provide necessary training to your employees for 

security awareness

. 

Gain visibility into external-facing digital assets with an 

Attack Surface Management

 solution. 

Regularly apply security patches and software updates. 

Apply the least privilege principle across the network, especially to critical systems and services 

Secure domain controllers (DC) using best practices. 

Enable 

multifactor authentication (MFA)

 to prevent lateral movement. 

Refer to IOCs and take necessary actions toward mitigation. 
SOCRadar's Attack Surface Management provides visibility into external-facing digital assets. SOCRadar has a predictive, preventive, and proactive approach toward security at its core. With SOCRadar's Attack Surface Management, security teams can track which CVEs are present in the environment. Knowing which CVEs are present in the organization can give the organization an advantage in defending against MuddyWater.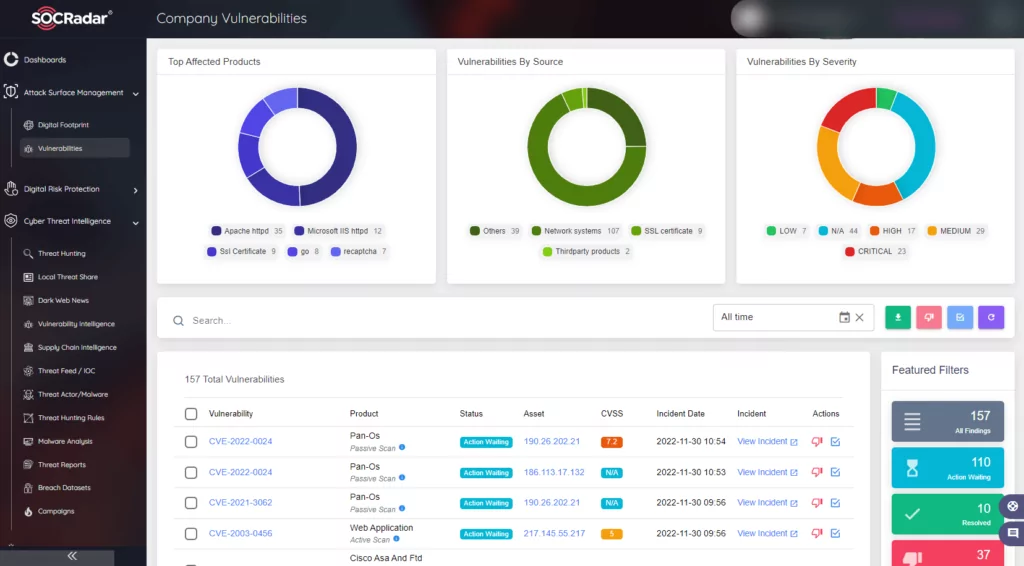 Most threat actors specializing in cyber espionage widely leverage spear phishing, just as MuddyWater does. If you receive any suspicious email, you can use free SOC Tools on SOCRadar Labs to analyze it.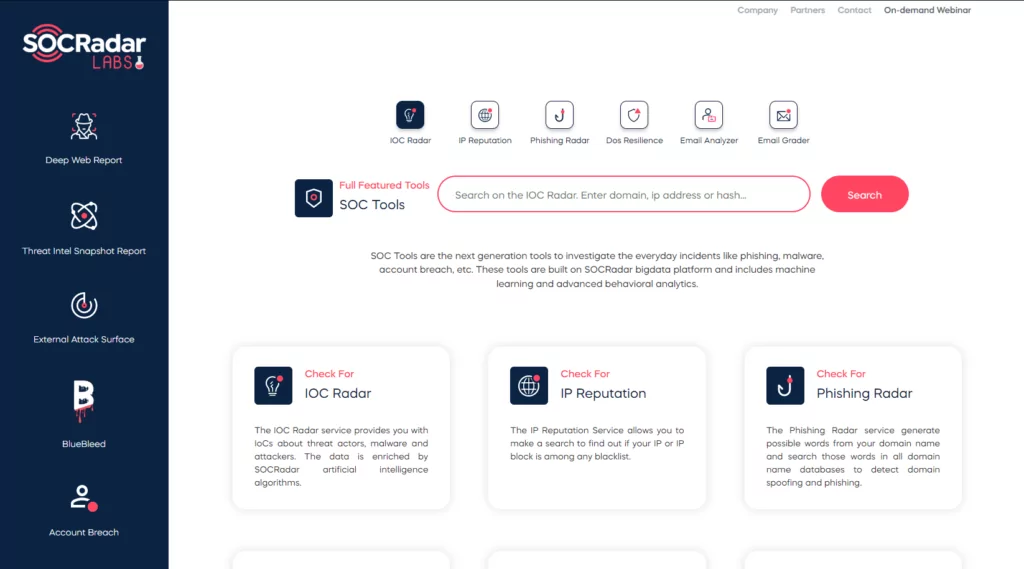 MITRE ATT&CK Techniques
Techniques

ID

Reconnaissance

Gather Victim Identity Information: Email Addresses

T1589.002

Resource Development

Acquire Infrastructure: Web Services

T1583.006

Obtain Capabilities: Tool

T1588.002

Initial Access

Phishing: Spearphishing Attachment

T1566.001

Phishing: Spearphishing Link

T1566.002

Execution

Windows Management Instrumentation

T1047

Command and Scripting Interpreter: PowerShell

T1059.001

Command and Scripting Interpreter: Windows Command Shell

1.059.003

Command and Scripting Interpreter: Visual Basic

T1059.005

Command and Scripting Interpreter: Python

T1059.006

Command and Scripting Interpreter: JavaScript

T1059.007

Exploitation for Client Execution

T1203

User Execution: Malicious Link

T1204.001

User Execution: Malicious File

T1204.002

Inter-Process Communication: Component Object Model

T1559.001

Inter-Process Communication: Dynamic Data Exchange

T1559.002

Persistence

Scheduled Task/Job: Scheduled Task

T1053.005

Office Application Startup: Office Template Macros

T1137.001

Boot or Logon Autostart Execution: Registry Run Keys / Startup Folder

T1547.001

Privilege Escalation

Abuse Elevation Control Mechanism: Bypass User Account Control 

T1548.002

Credentials from Password Stores

T1555

Credentials from Web Browsers

T1555.003

Defense Evasion

Obfuscated Files or Information

T1027

Steganography

T1027.003

Compile After Delivery

T1027.004

Masquerading: Match Legitimate Name or Location

T1036.005

Deobfuscate/Decode Files or Information

T1140

Signed Binary Proxy Execution: CMSTP

T1218.003

Signed Binary Proxy Execution: Mshta

T1218.005

Signed Binary Proxy Execution: Rundll32

T1218.011

Execution Guardrails

T1480

Impair Defenses: Disable or Modify Tools

T1562.001

Credential Access

OS Credential Dumping: LSASS Memory

T1003.001

OS Credential Dumping: LSA Secrets

T1003.004

OS Credential Dumping: Cached Domain Credentials

T1003.005

Unsecured Credentials: Credentials In Files

T1552.001

Discovery

 

System Network Configuration Discovery

T1016

System Owner/User Discovery

T1033

System Network Connections Discovery

T1049

Process Discovery

T1057

System Information Discovery

T1082

File and Directory Discovery

T1083

Account Discovery: Domain Account

T1087.002

Software Discovery

T1518

Security Software Discovery

T1518.001

Collection

Screen Capture

T1113

Archive Collected Data: Archive via Utility

T1560.001

Command and Control

Application Layer Protocol: Web Protocols

T1071.001

Proxy: External Proxy

T1090.002

Web Service: Bidirectional Communication

T1102.002

Multi-Stage Channels

T1104

Ingress Tool Transfer

T1105

Data Encoding: Standard Encoding

T1132.001

Data Encoding: Non-Standard Encoding

T1132.002

Remote Access Software

T1219

Exfiltration

Exfiltration Over C2 Channel

T1041
Appendix:
Appendix 1: IOCs of PowGoop
goopdate[.]dll
MD5: a27655d14b0aabec8db70ae08a623317

SHA-1: 7649c554e87f6ea21ba86bb26ea39521d5d18151

SHA-256: 2c92da2721466bfbdaff7fedd9f3e8334b688a88ee54d7cab491e1a9df41258f

File type: Win32 DLL

File size: 88.50 KB (90624 bytes)
vcruntime140[.]dll
MD5: cec48bcdedebc962ce45b63e201c0624

SHA-1: 81f46998c92427032378e5dead48bdfc9128b225

SHA-256: dd7ee54b12a55bcc67da4ceaed6e636b7bd30d4db6f6c594e9510e1e605ade92

File type: Win32 DLL

File size: 91.50 KB (93696 bytes)
IOCs
104.208.16[.]94:443 (TCP)

20.42.65[.]92:443 (TCP)

20.42.73[.]29:443 (TCP)

libpcre2-8-0[.]dll

MD5: 860f5c2345e8f5c268c9746337ade8b7

SHA-1: 6c55d3acdc2d8d331f0d13024f736bc28ef5a7e1

SHA-256: 9d50fcb2c4df4c502db0cac84bef96c2a36d33ef98c454165808ecace4dd2051

File type: Win32 DLL

File size: 94.50 KB (96768 bytes)
IOCs
20.189.173[.]20:443 (TCP)

20.189.173[.]21:443 (TCP)

20.42.73[.]29:443 (TCP)
Appendix 2: IOCs of Small Sieve
gram_app[.]exe
MD5: 15fa3b32539d7453a9a85958b77d4c95

SHA-1: 11d594f3b3cf8525682f6214acb7b7782056d282

SHA-256: b75208393fa17c0bcbc1a07857686b8c0d7e0471d00a167a07fd0d52e1fc9054

File type: Win32 EXE

File size: 16.21 MB (16999598 bytes)
IOCs
13.107.4[.]50:80 (TCP)

149.154[.]167.220:443 (TCP)

192.168.0[.]15:137 (UDP)

23.216.147[.]64:443 (TCP)

23.216.147[.]76:443 (TCP)

a83f:8110:0:0:1400:1400:2800[:]3800:53 (UDP)
index[.]exe
MD5: 5763530f25ed0ec08fb26a30c04009f1

SHA-1: 2a6ddf89a8366a262b56a251b00aafaed5321992

SHA-256: bf090cf7078414c9e157da7002ca727f06053b39fa4e377f9a0050f2af37d3a2

File type: Win32 EXE

File size: 16.46 MB (17263089 bytes)
IOCs
13.107.4[.]50:80 (TCP)

192.168.0[.]1:137 (UDP)

192.168.0[.]25:137 (UDP)

20.99.132[.]105:443 (TCP)

209.197.3[.]8:80 (TCP)

23.216.147[.]64:443 (TCP)

a83f:8110:0:0:7f00:0:0[:]0:53 (UDP)

a83f:8110:492a:d801:d1df:1328:492a[:]d801:53 (UDP)

a83f:8110:5067:d801:beac:bf78:cce1[:]d301:53 (UDP)
Appendix 3: IOCs of Canopy
Cooperation terms[.]xls
MD5: b0ab12a5a4c232c902cdeba421872c37

SHA-1: a8e7659942cc19f422678181ee23297efa55fa09

SHA-256: 026868713d60e6790f41dc7046deb4e6795825faa903113d2f22b644f0d21141

File type: 

MS Excel Spreadsheet

File size: 247.00 KB (252928 bytes)
IOCs
88.119.170[.]124:80 (TCP)
ZaibCb15Ak[.]xls
MD5: 6cef87a6ffb254bfeb61372d24e1970a

SHA-1: e21d95b648944ad2287c6bc01fcc12b05530e455

SHA-256: 4b2862a1665a62706f88304406b071a5c9a6b3093daadc073e174ac6d493f26c

File type: 

MS Excel Spreadsheet

File size: 

249.00 KB (254976 bytes)
IOCs
Appendix 4:IOCs of Mori
FML[.]dll
MD5: 0431445d6d6e5802c207c8bc6a6402ea

SHA-1: 3765c1ad8a1d936aad88255aef5d6d4ce24f94e8

SHA-256: 3098dd53da40947a82e59265a47059e69b2925bc49c679e6555d102d1c6cbbc8

File type: Win32 DLL

File size: 

200.65 MB (210397496 bytes)
Appendix 5:IOCs of POWERSTATS
LisfonService[.]exe
MD5: f5dee1f9cd47dc7bae468da9732c862e

SHA-1: 5273ee897e67fc01ee5fef08c37400cb4ee15958

SHA-256: 6f8226d890350943a9ef4cc81598e0e953d8ba9746694c0b7e3d99e418701b39

File type: Win32 EXE

File size: 119.00 KB (121856 bytes)
TestService[.]exe
MD5: e75443a5e825f69c75380b6dc76c6b50

SHA-1: 142b5753c608c65e702e41b52abdeb96cb2f9294

SHA-256: c514c3f293f0cb4c23662a5ab962b158cb97580b03a22b82e21fa3b26d64809c

File type: Win32 EXE

File size: 92.50 KB (94720 bytes)
IOCs
13.107.4.50:80 (TCP)

a83f:8110:e0:ffff:e0:ffff:e0[:]ffff:53 (UDP)
相关文章