In this intrusion from May 2022, the threat actors used BumbleBee as the initial access vector from a Contact Forms campaign. We have previously reported on two BumbleBee intrusions (1, 2), and this report is a continuation of a series of reports uncovering multiple TTPs seen by BumbleBee post exploitation operators.
The intrusion began with the delivery of an ISO file that contained an LNK and a DLL. The threat actors leveraged BumbleBee to load a Meterpreter agent and Cobalt Strike Beacons. They then performed reconnaissance, used two different UAC bypass techniques, dumped credentials, escalated privileges using a ZeroLogon exploit, and moved laterally through the environment.
Case Summary
The intrusion started with a contact form on a website. It has been reported that this delivery method has been in use for intrusions since at least 2020. This campaign took place in May, and appears to have run as late as June 2022, based on OSINT data related to similar delivery fingerprints. The contact form gets filled out by the threat actor with a Copyright notice, purporting a violation of the Digital Millennium Copyright Act (DMCA). It then encourages the recipient to download a file showing the purported violation.
Upon the user clicking the link, they arrive at a "Google" storage site on storage.googleapis.com. A zip file is then downloaded to the victim machine and once unzipped the user is presented with an ISO file. The ISO contains a LNK file and a DLL file. When the LNK is double-clicked, the BumbleBee DLL is executed via rundll32. Initially, contact was made with BumbleBee command and control servers but little other early activity was observed.
Approximately 12 hours later, ImagingDevices.exe was launched via WmiPrivse.exe and a Meterpreter agent was injected into the process, like we have observed in previous reports. This process then utilized nltest, net, tasklist, and whoami to perform reconnaissance. About 37 minutes after launching ImagingDevices.exe, the Meterpreter agent migrated to svchost.exe. Upon migrating to the svchost process, there were attempts to bypass UAC and launch a Meterpreter executable.
Several failed attempts to bypass UAC occurred, utilizing the WSReset method, followed by a failed attempt to bypass UAC utilizing the slui hijacking method. Finally, the threat actors succeeded on their final attempt, using the WSReset method. Once UAC was bypassed, Meterpreter's getsystem command was successfully employed. Now in the SYSTEM context, this Meterpreter agent executed a Cobalt Strike Beacon DLL.
The Cobalt Strike Beacon was utilized to perform a second round of reconnaissance and to access credentials. AdFind, nltest, net, and systeminfo were used to facilitate this activity. The Sysinternals tool ProcDump64 was written to disk and used to dump lsass on the beachhead host. Then, the threat actors executed reg.exe to save a copy of the SAM, Security, and Software registry hives on the beachhead host. Lateral movement was then performed over SMB, to transfer a Cobalt Strike Beacon DLL's to other workstation's C$\\ProgramData\. These were executed via remote services, but appeared to be there for redundant connections as the threat actors continued to perform their actions on the beachhead workstation.
After a pause of about three hours, 19 hours since initial access, the threat actors launched an exploit against the primary domain controller targeting the Zerologon (CVE 2020 1472) vulnerability. After successfully exploiting the Domain controller, the threat actors used Pass the Hash to begin working in the context of a user who was a member of the Domain Admins group.
From the beachhead host, Invoke-Sharefinder was executed with the output being written to disk. A Cobalt Strike Beacon DLL was then written over SMB to another Domain Controller and executed via a service.
The threat actors were evicted from the environment and no further impact was observed. We assess with medium confidence this intrusion was related to pre-ransomware activity due to the tool set and techniques the actors displayed. As far as impact, one Domain Controller was left broken causing authentication failures across the domain.
Services
We offer multiple services including a Threat Feed service which tracks Command and Control frameworks such as Cobalt Strike, BumbleBee, Covenant, Metasploit, Empire, PoshC2, etc. More information on this service and others can be found here.
We also have artifacts and IOCs available from this case such as pcaps, memory captures, files, event logs including Sysmon, Kape packages, and more, under our Security Researcher and Organization services.
Timeline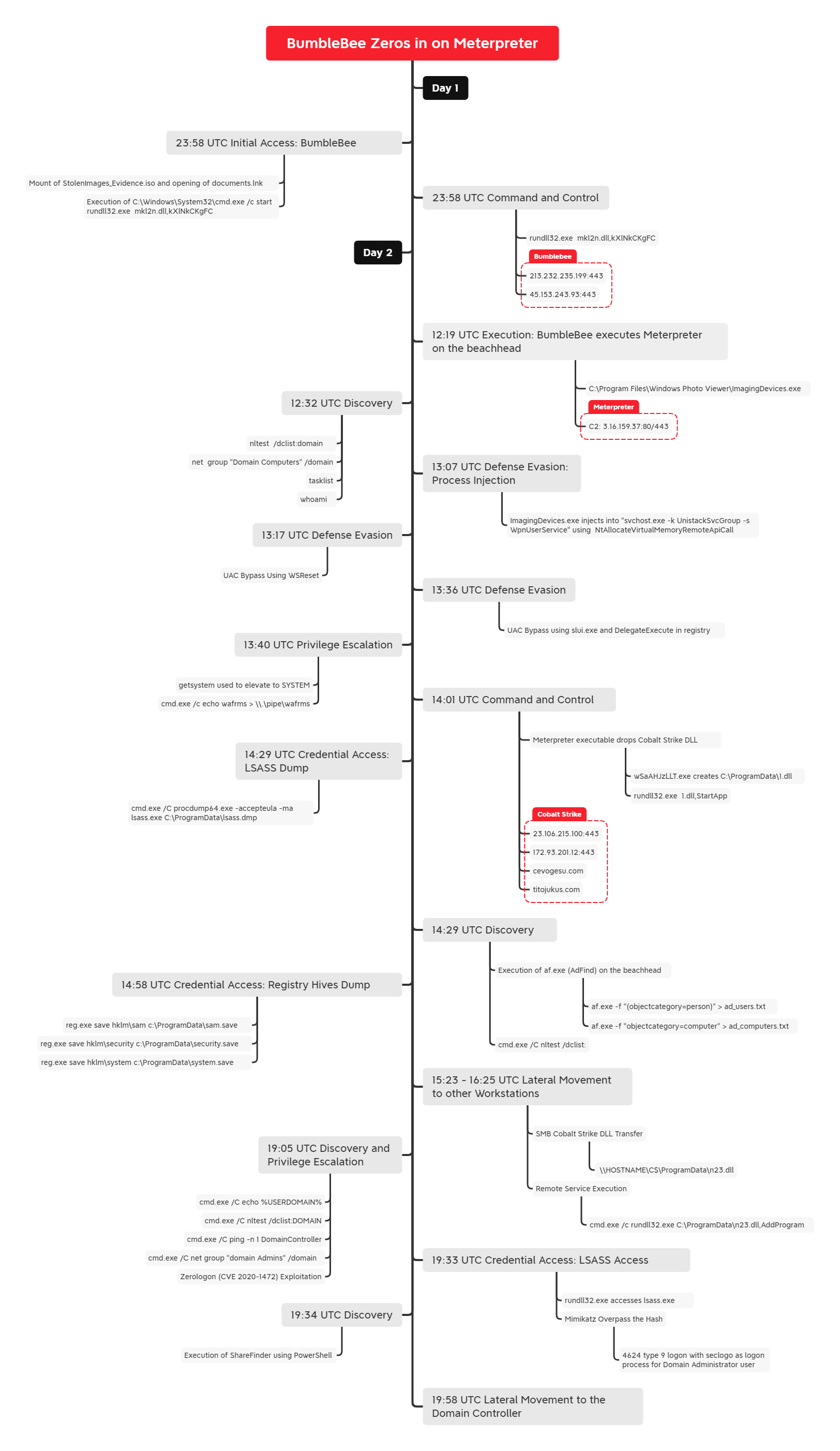 Analysis and reporting completed by @0xtornado, @samaritan_o, @RoxpinTeddy
Initial Access
The intrusion in this case began with a link to a google domain, storage.googleapis.com. This delivery method has been observed in both thread hijacked email distribution, as well as contact form campaigns. We assess with medium-high confidence that the one observed in our intrusion was likely from a contact form campaign, as the initial access URL was spotted in the wild across various sites, impersonating various companies' legal teams, trying to entice the user to download and review the malicious files.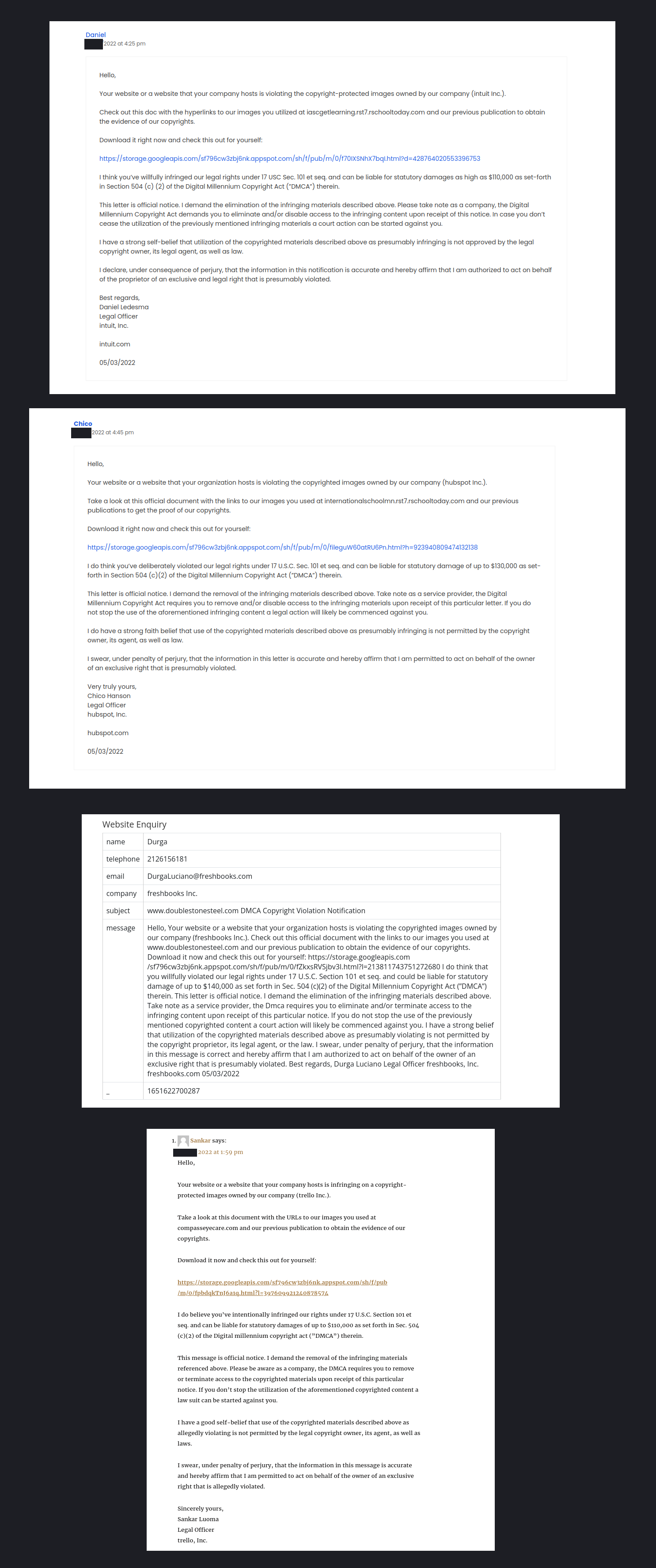 After clicking the link, the users end up at what, at first glance, may appear to be a legitimate google download site.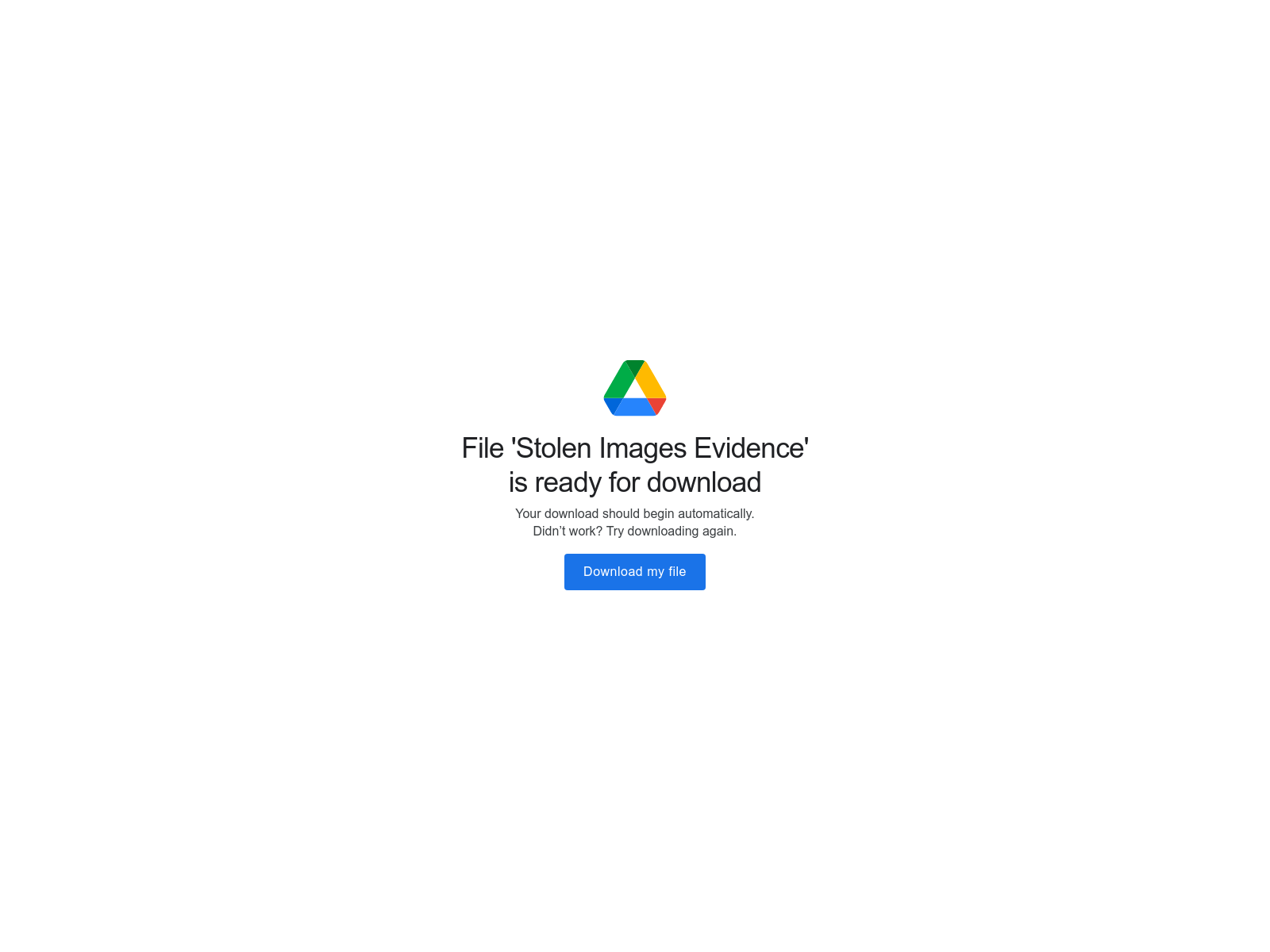 Next, a zip file is downloaded to the victim's system, which when unzipped reveals the ISO image file StolenImages_Evidence.iso, once mounted–lures the victim to open a shortcut mimicking a fake documents folder: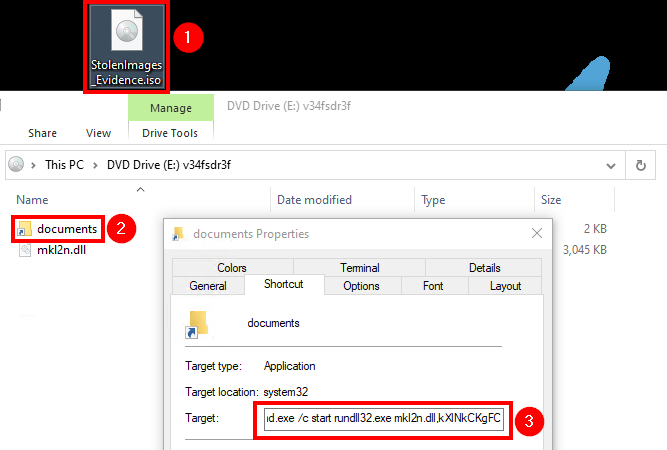 The LNK was pointing to the following command, which runs a malicious DLL when the user double clicks on the LNK file:
%windir%\system32\cmd.exe /c start rundll32.exe mkl2n.dll,kXlNkCKgFC
By extracting LNK metadata using Eric Zimmerman's LECmd tool, we noticed that the initial BumbleBee payload was generated by the same threat actors reported in our previous BumbleBee report: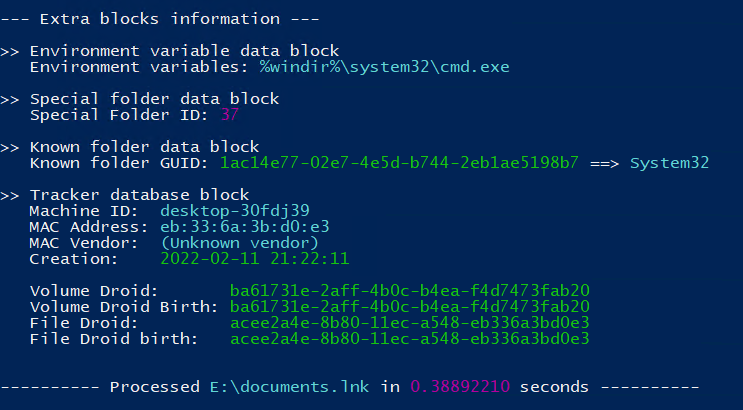 Machine ID: desktop-30fdj39
Mac:eb:33:6a:3b:d0:e3
Creation: 2022-02-11 21:22:11
The tracker database block details containing threat actor's hostname, MAC Address, and other details are the exact same as seen our the last BumbleBee report. However, the payload was slightly modified (name and icon).
The threat actors dropped and executed multiple payloads reaching out to different C2s. The graph below shows how the threat actors were able to pivot between C2s by either injecting into legitimate processes or dropping and executing new payloads.
Like in our previous BumbleBee report, we see the use of injection into a legitimate Windows executable.
C:\Program Files\Windows Photo Viewer\ImagingDevices.exe
And likewise, we see BumbleBee spawning these new processes using WmiPrvSE.exe.

The graphic below shows all payloads dropped, executed, or injected by the threat actors. Both Meterpreter and Cobalt Strike payloads were used during this intrusion.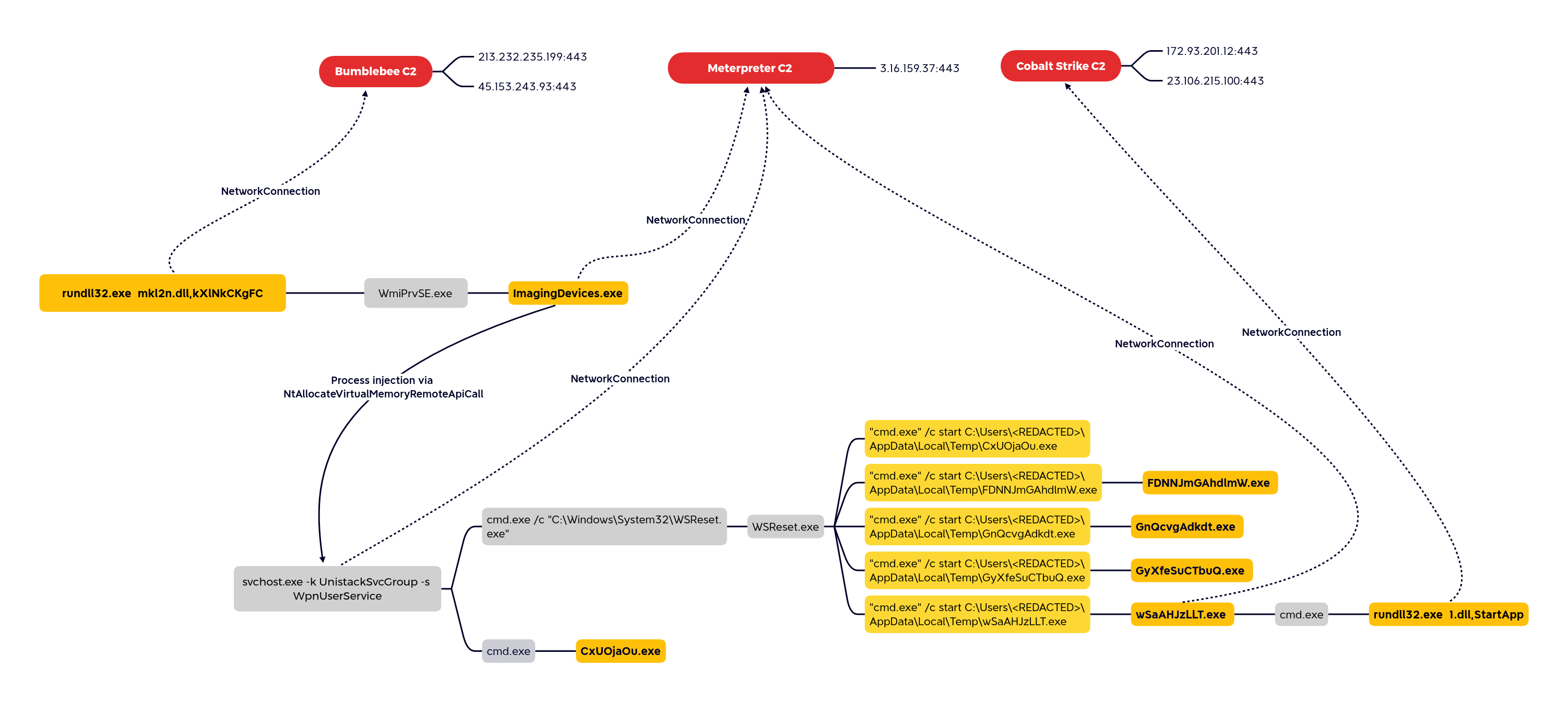 The getsystem module was used to elevate access on the beachhead host.


cmd.exe /c echo wafrms > \\.\pipe\wafrms
C:\Windows\system32\cmd.exe /c echo dec8f35bcbf > \\.\pipe\7fd13a
On the second day, a Netlogon spike was observed from the beachhead host to a domain controller.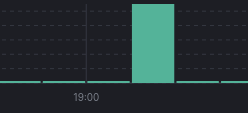 This spike was made up of various netlogon requests (NetrServerReqChallenge, NetrServerAuthenticate2, NetrServerPasswordSet2) from the beachhead host to the primary domain controller.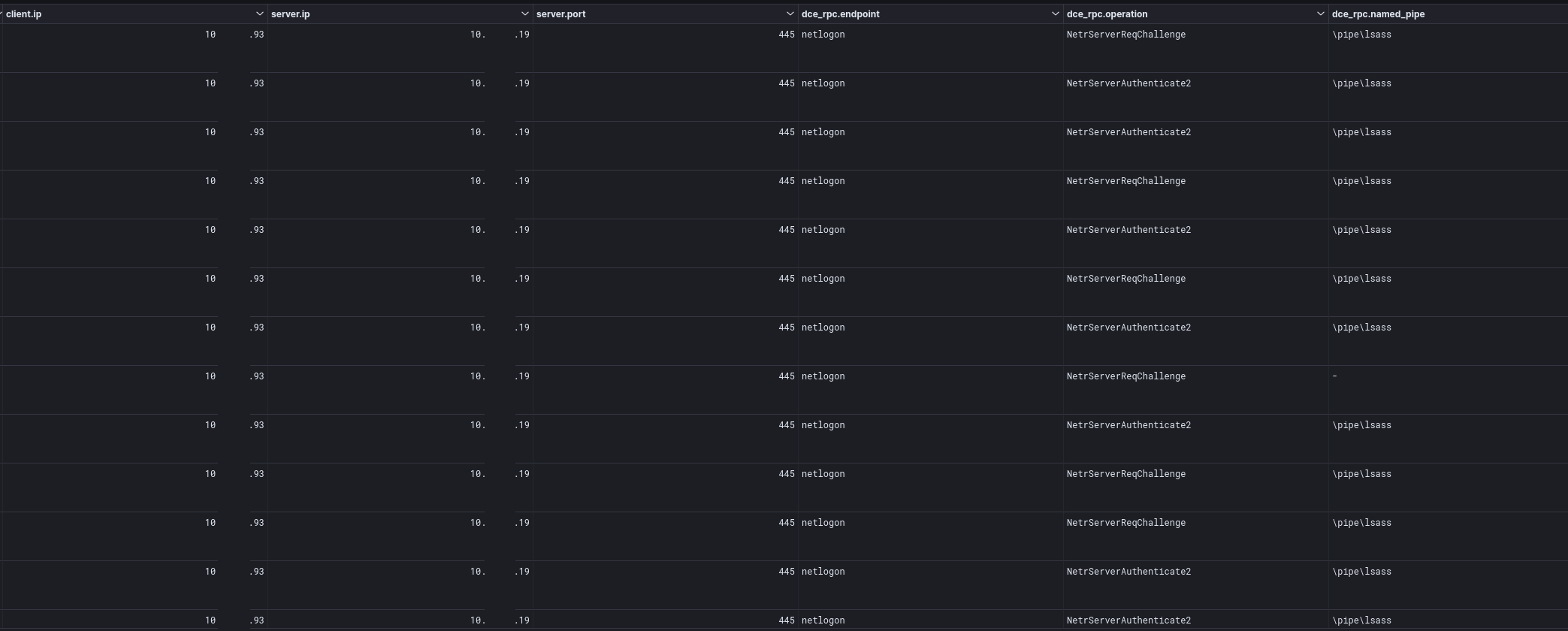 A view of the traffic reveals that the threat actors had exploited CVE 2020 1472, otherwise known as ZeroLogon. In the PCAP below, we can see the packet where the exploit succeeds in resetting the credential to all zeros.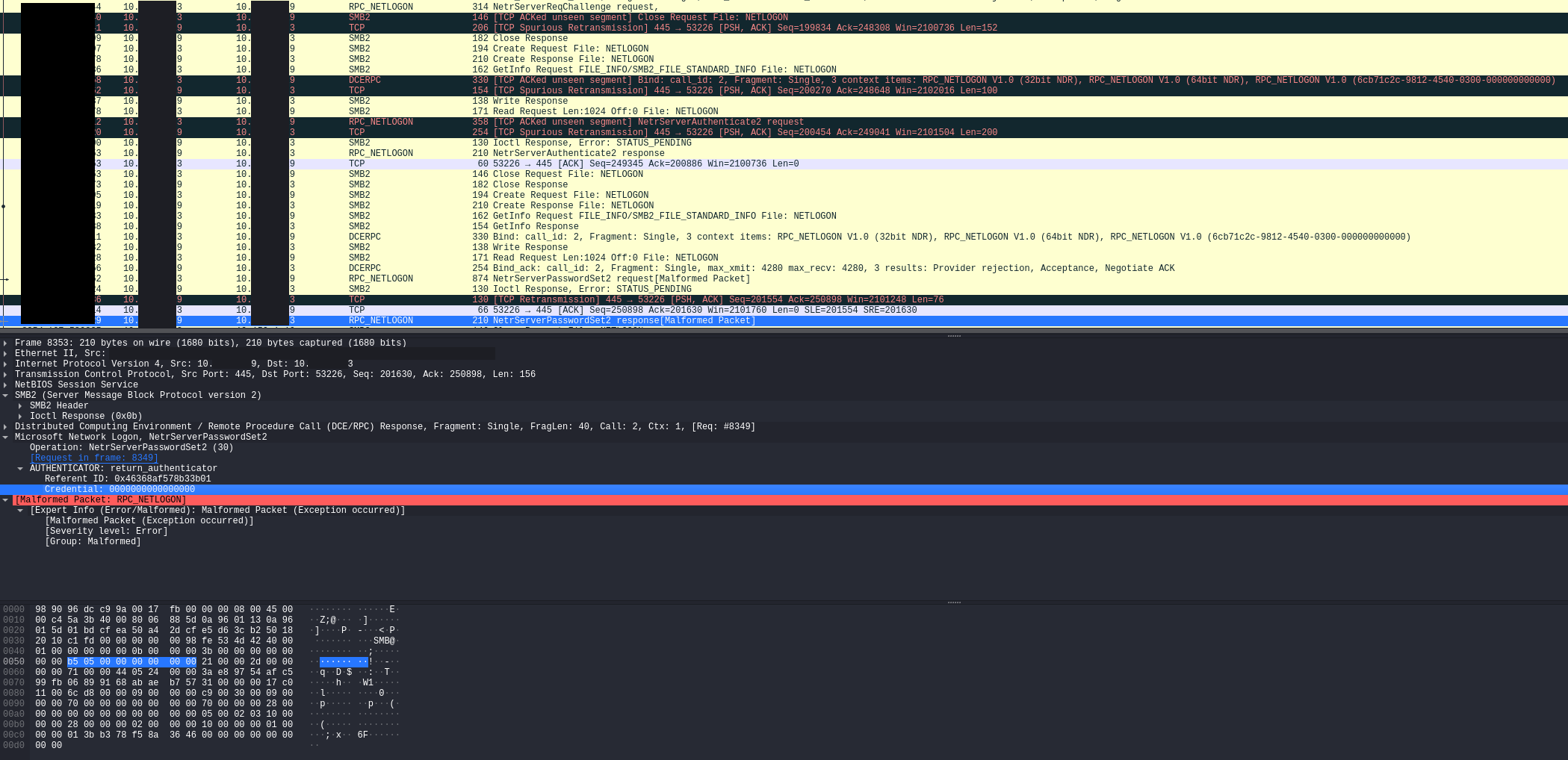 On the domain controller, a 4742 event was generated showing the beachhead host changing the password on the domain controller, matching the timestamps to the network data.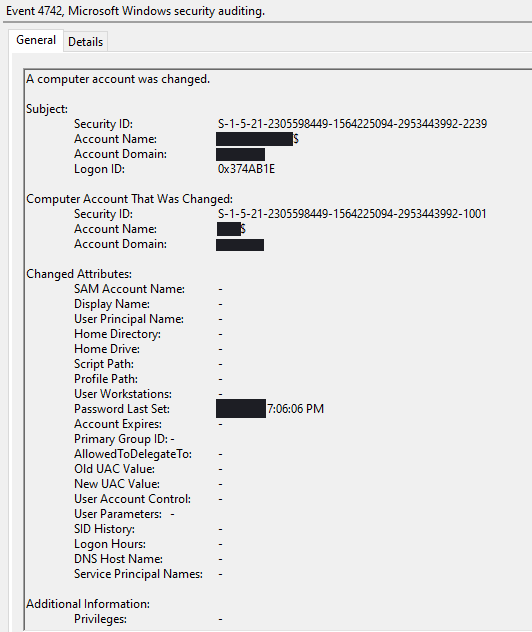 After exploiting Zerologon, the threat actors were also seen using Pass the Hash to begin working in the context of a user, who was a member of the Domain Admins group.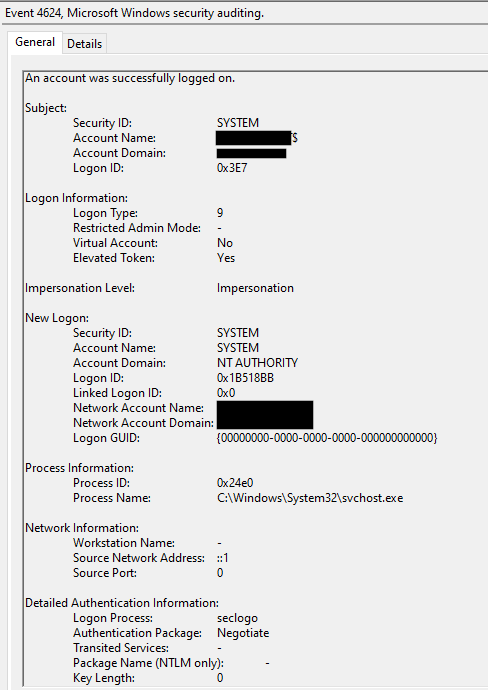 ImagingDevices.exe injection into "svchost.exe -k UnistackSvcGroup -s WpnUserService" using NtAllocateVirtualMemoryRemoteApiCall. Several other processes were injected into as seen below:
| | | | |
| --- | --- | --- | --- |
| .Pid | .ProcessName | .CommandLine | .Rule |
| 576 | winlogon.exe | winlogon.exe | win_cobalt_strike_auto |
| 836 | svchost.exe | C:\Windows\system32\svchost.exe -k DcomLaunch -p | win_cobalt_strike_auto |
| 616 | winlogon.exe | winlogon.exe | win_cobalt_strike_auto |
| 1132 | svchost.exe | C:\Windows\System32\svchost.exe -k LocalSystemNetworkRestricted -p -s NcbService | win_cobalt_strike_auto |
| 6876 | svchost.exe | C:\Windows\system32\svchost.exe -k UnistackSvcGroup | win_cobalt_strike_auto |
| 9828 | svchost.exe | C:\Windows\system32\svchost.exe -k UnistackSvcGroup | win_cobalt_strike_auto |
The threat actors were observed bypassing UAC via WSReset and DelegateExecute, spawning new processes at a High integrity level.

While executing this UAC bypass, the threat actors seemed to be running into some kind of trouble during execution, which required them to try the technique several times and tried to kill one of their processes from a prior attempt.

In addition to the WSReset UAC bypass, the threat actors tried a method using slui.exe. The data points to use of the Meterpreter implementation here.[1]

The threat actors were also seen deleting a number of their tools which were previously dropped to perform various tactics:

Throughout the intrusion, the injected Cobalt Strike Processes utilized various named pipes for inter-process communications. Many of these pipes used default Cobalt Strike pipe patterns.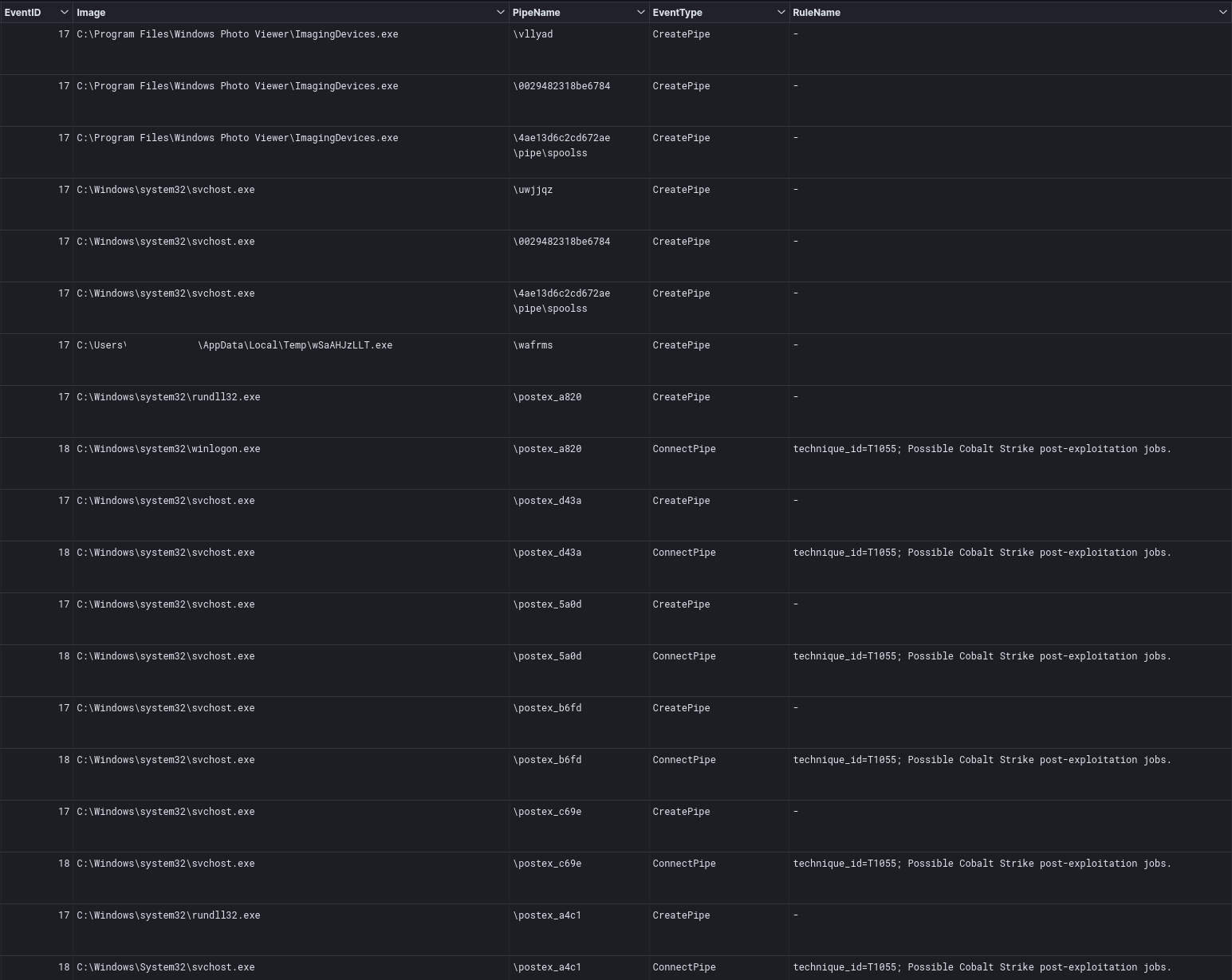 Known Cobalt Strike pipes used:
\postex_002d
\postex_67cc
\postex_731d
\postex_a4c1
\postex_c69e
\postex_b6fd
\postex_5a0d
\postex_d43a
\postex_a820
We also saw the unusual named pipes coming from ImagingDevices.exe which was injected with Meterpreter below: 
\4ae13d6c2cd672ae\pipe\spoolss
\0029482318be6784
\uwjjqz
\vllyad
The threat actor dropped the Sysinternals executable procdump64.exe, which they then used to dump the lsass process. The command observed was:
procdump64.exe -accepteula -ma lsass.exe C:\ProgramData\lsass.dmp

Registry Hives Dump
Using the Cobalt Strike beacon, injected in a svchost.exe process, the threat actors dumped SAM, SECURITY, and SYSTEM hives using the native reg.exe utility. Below are the commands that were used:
C:\Windows\system32\cmd.exe /C reg.exe save hklm\sam c:\ProgramData\sam.hive
C:\Windows\system32\cmd.exe C:\Windows\system32\cmd.exe /C reg.exe save hklm\security c:\ProgramData\security.save
C:\Windows\system32\cmd.exe /C reg.exe save hklm\security c:\ProgramData\security.save
C:\Windows\system32\cmd.exe C:\Windows\system32\cmd.exe /C reg.exe save hklm\system c:\ProgramData\system.save
C:\Windows\system32\cmd.exe /C reg.exe save hklm\system c:\ProgramData\system.save

原文始发于THE DFIR REPORT:BumbleBee Zeros in on Meterpreter
相关文章